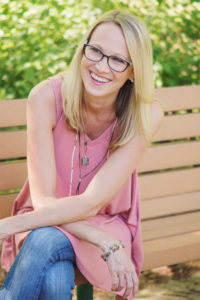 Hello! I am always excited to share my stories with groups face to face! Whether your event is a large conference or an intimate group of a few friends, my speaking style is to create a warm and personable atmosphere where women can let their guards down, tap into their real selves, and maybe even laugh a little in the process.
In addition to speaking at church conferences and MOPS groups, I have led several Bible studies and small groups for my local church. I am happy to adapt my speaking topics to fit any theme, but my "specialties" include:
Marriage – What comes next when we discover our "Prince Charming" is an imperfect human being? (And we are, too?! ) I'll share what I learned during a soul-stretching, six- year marriage crisis, and how a shift in perspective can open us up to a marriage that "works".
Motherhood – What does it look like to mother well in a culture that tells us it's either the best thing we'll ever do OR it's completely overrated? In my early years of motherhood, I struggled to adapt to all the new demands or parenting, which led to feeling disenchanted and disillusioned. Like Cinderella, I dreamt of being "rescued" from my own life and pined for what might exist outside the four walls of my home. But rather than escaping, I'm now a homeschooling mom to four. I'll share how I journeyed from disillusionment to delight and how I discovered new joy and purpose in the middle of the mundane.
Personal Growth: What does it look like to be a life-long learner? What led me to pursue a Masters of Apologetics at 36 years old (in the thick of motherhood) and what might it look like for us to "redeem" our own education? What does it mean for women to love God with our hearts AND our minds?
Faith and Doubt: What happens when our faith is no longer the solid ground it used to be? Is it OK to question God? Can this lead to a deeper faith? Though it was terrifying, my season of doubt ultimately led to a richer and more complete faith as I learned to let go of my need to know and embrace mystery.
Missional Faith: Why I said "yes" to India and what it taught me about the global church.
What others are saying:
"To say Nicole was a great speaker at our MOPS/MOMSnext group is an understatement. She was so relatable and encouraging to whatever stage of mothering our group was in. Her talk included our theme for the year which was awesome. The discussion questions she provided were great even for the beginning of our year! You need to book Nicole as a speaker!! You will not be disappointed!"
-Alanna Colburn, Coordinator at Immanuel MOPS, Gurnee, IL
"I love Nicole's willingness to be so open and brave."
-Anonymous, MOPS, Kenosha, WI
"Nicole was used as an instrument of God today for sure. We are so grateful for such a timely message for many moms."
-Lindsey Bridges, Coordinator at Northbridge MOPS, Antioch, IL
"Love my girl, Nicole! She is the whole package; sweet, (deeply) spiritual, serious with a splash of sass! Nicole spoke at our women's conference for North Point Church in Winthrop Harbor, IL. If you're looking for a speaker for your next event, I definitely recommend booking her!"
-Mindy Bycroft, North Point Church
I look forward to hearing from you! Let me know what questions and/or feedback you have for me, and I'll get back to you as quickly as I can.
Nicole
Contact:
Email: [email protected]