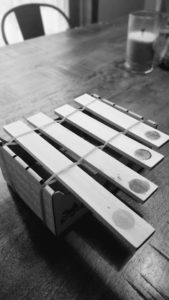 Preparing for a talk next week and thinking about this little, homemade xylophone I made with my four year old.
You know what's crazy? Those wooden blocks wouldn't make music if it weren't for the hollowed out box lying underneath.
We all have empty spaces. Gaping holes. Places we feel hollowed out.
Instead of rushing to fill the space with anything and everything, what if we decided to just start listening for the music?
"And the Spirit of the Lord was hovering over the dark waters." Genesis 1:2